Export from USA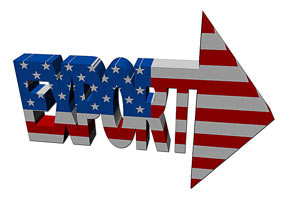 Export is the process of shipping goods out of one country to another. The seller of the goods also called "exporter" is transferring ownership of the goods to the buyer know as "importer". Exporting merchandise is a multistage process and it is always good to work with export professional freight forwarder and custom brokers. It could save you a lot of money and headaches.
Let us take care for your export from the USA and avoid doing costly export mistakes.
Make an Export Booking with freight forwarder. International Export process start with contacting freight forwarding agent and make an export booking reservation. In order to avoid any incorrect information we accept booking only via fax or email. We will request export information regarding cargo description, dimensions, place of loading, export shipper information. Based on our experience the initially provided dimensions sometimes differ from the actual one when customer is exporting LCL cargo, break-bulk, or Ro-Ro.
Security deposit will be required for new customers. For new or first time customers we require a security deposit when shipping Ro- Ro, Break Bulk, LCL cargo. Due to the short delivery process all air freight export shipments require prepayment.
Export shipping instructions. Some shipments require advance notice to make the export shipping arrangements. When everything is arranged we will provide you with the following information.

Booking Confirmation
Estimated Date of Departure
Estimate Date of Arrival
Vessel Name, Voyage and Routing

Submit the proper export documents. All the documents with full shipping instructions must be provided before cargo delivery to seaport or airport. We will file customs export declaration based on the provided information. Customer is completely responsible for any omissions or misrepresentation of the information. Export Documents required:

Packing List
Commercial Invoice
Dock Receipt
Shipper Export Declaration (SED)

Ocean Freight Payment. Once the payment is received we will issue a telex release or express release for the exported ocean freight. Please allow us 5 five business days for container release after the payment is cleared into our account.
BILL OF LADING - B/L nonnegotiable copy will be issued few days after vessel sails. Bill of Lading is the official document for your exported container. No originals required. Original Bill of Lading for the exported cargo can be provided upon customer request.
Cargo Arrival at Destination
When the vessel approach the port of delivery the consignee or notify party will receive Arrival Notice form the carrier agent. Please also check with the local carrier agent before the estimate vessel arrival time. If the cargo has to be transshipped to a third country, notify party or the consignee should arrange further transportation of the exported cargo to the final destination. When goods reach the final destination, exported freight has to clear customs. Experienced customs broker will always advise on the proper customs procedures and will assist cargo release. We have network of agents and exporting various goods and destinations:
Oil and mining equipment Export shipping from USA and Canada to Russia, Kazakhstan, Uzbekistan, Ukraine, Finland.
Agricultural machinery export shipping from USA and Canada to Russia, Kazakhstan, Uzbekistan, Ukraine, Finland.
Frozen Food and supplements export shipping from USA and Canada to Russia, Kazakhstan, Uzbekistan, Ukraine, Finland.
Break bulk and oversized cargo export shipping from USA and Canada to Russia, Kazakhstan, Uzbekistan, Ukraine, Finland.
Ro Ro ( roll on roll off ) export shipping from USA and Canada to Russia, Kazakhstan, Uzbekistan, Ukraine, Finland.
Cars, Boat, Yachts ATVs, motorcycles and vehicles export shipping from USA and Canada to Russia, Kazakhstan, Uzbekistan, Ukraine, Finland.
Export of Hazardous Materials to Russia and Kazakhstan
Export shipping of Plastic Articles/ Export shipping of Textile/ Export shipping of Hazardous Chemicals/ Export shipping of Non Hazardous Chemicals/ Export shipping of Screens/ Export shipping of Batteries Hazardous/ Export shipping of Soy Sauce / Export shipping of Sporting Goods/ Export shipping of Machinery/ Export shipping of Agricultural Machinery/ Export shipping of Auto Parts/ Export shipping of Boring Equipment/ Export shipping of Clay/ Export shipping of Paint/ Export shipping of Augers/ Export shipping of Wall Paper/ Export shipping of Clothes/ Export shipping of Oil Mining Equipment/ Export shipping of Clothes/ Export shipping of Furniture/ Export shipping of Flooring, Export shipping of Furniture and Accessories/ Export shipping of Spas/ Export shipping of Tikes/ Export shipping of Toners/ Export shipping of Pharmaceutical Products / Export shipping of Fertilizers / Export shipping of Fish, Dairy Products / Export shipping of Frozen Food/ Export shipping of Oil Seeds Etc / Export shipping of Misc Grain, Seed, Fruit, Plant / Export shipping of Edible Preparations Of Meat, Fish, Crustaceans Etc/ Export shipping of Sugars And Sugar Confectionary / Export shipping of Tobacco And Manufactured Tobacco Substitutes/ Export of Tanning & Dye Ext Etc; Dye, Paint, Putty Etc; Inks/ Export shipping of Miscellaneous Chemical Products/ Export shipping of Rubber And Articles Thereof/ Export shipping of Plastics And Articles Thereof/ Wood And Articles Of Wood; Wood Charcoal/ Export shipping of Miscellaneous Articles Of Base Metal/ Export shipping of Electric Machinery Etc; Sound Equip; Tv Equip; Pts/ Export shipping of Vehicles, And Parts Etc/ Export shipping of Boats And Floating Structures/ Export shipping of Optic, Photo Etc, Medic Or Surgical Instrments Etc/ Export shipping of 94 Furniture; Bedding Etc/ Export shipping of Sport Equipment; Parts & Accessories/ Export shipping of Miscellaneous Manufactured Articles/ Export shipping of Snow throwers/ Export of Mowers, Lawn Mowers/ Export shipping of Chain Saw/ Export shipping of Trimmers/ Export of Tractors/ Export shipping of Tillers/ Blowers/ Edger / Export shipping of Attachments for Tractors / Attachments for Hedge Trimmers / Pole Runner/ Hedge Trimmers/ Bagger / Export shipping of Hydraulic Lifts/ Export shipping of Pneumatic Equipment