Ro-Ro Shipping (Roll-on / Roll-off)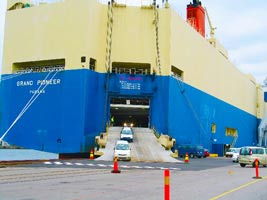 RO-RO (Roll-on / Roll-off) is way of ocean shipping for wheeled cargo (vehicles, trucks, trailers, semitrailers and other wheeled equipment which does not require cranes to be loaded on the vessel). The equipment must be driven on and off the ship. Usually Ro-Ro ships have own ramps, which allow the load to be roll-on and roll-off (Ro-Ro). This is in contrast with the break bulk cargo which requires a crane to load and unload the cargo.
Ro-Ro shipping vessels are designed for non stackable cargo, which vary in size and height and this makes the less efficient compared with the container ships. Some steam ship lines have hybrid vessels for ocean containers and ro-ro shipping. Shipping cost usually is calculated based on lanes in meters (LIMs). This usually can be calculated by multiplying cargo length and width lanes (lane differs between different ro-ro shipping carriers).
Ro-Ro ships include barges, ferries and cargo ships mostly they are related with certain specialized trades. For example Ro-Ro has become a main shipping way of new automobiles around the world, vessels designed for this are called PCC (Pure Car Carrier).
You can request an ocean freight quote on RO-RO shipment by fill out and submit online form.