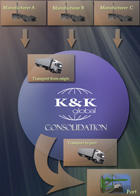 Click on the image to enlarge
Freight consolidation can help you reduce the shipping cost by moving In LCL volumes of goods together. In order to optimize export, import consolidation time and cost, we offer combining load consolidation of several consignees into one consolidated load. This includes air, ocean and inland freight consolidation.

Our experience team is ready to pack, brace, crate, load and secure your consolidated container cargo for the best of your needs and international shipping requirements. Our professional agents will monitor and track every step and detail of the air / ocean /inland freight consolidation and provide you with the best solutions for your consolidated load.

K&K Global llc. provides logistics services and support designed specifically for the furniture industry throughout North America, Europe and Asia. Service offerings to the progressive retailer, importer or manufacturer include:
Consolidation
Less than Truckload
Truckload
Warehousing
Inventory Control
Distribution
Container Devanning
Ocean Freight
Direct to Consumer, White Glove Delivery - US and Canada Since 1991 our financial stability in the ever changing landscape of supply chain logistics has assured our being there for your organization.
Freight Consolidation
Consolidates LTL (less than truck load) shipments from furniture manufacturers/importers' distribution centers to major furniture retailers throughout the US
Average 1.5 stops per outbound load
Dedicated solid loads or stop trucks available
Logistics Management
Provides turn-key, cost-effective solutions to help clients control their supply chain in virtually any market in the continental US
Reverse Logistics
Handles returns, inspections, repairs, recartoning and stocking of client merchandise
Provides order fulfillment from existing inventory as well as new domestic and offshore inventory
Import Warehousing, Order Fulfillment, and Distribution
Performs inbound imported product receipt, inventory control, statistical inspections, assembly, order fulfillment and distribution through our warehouse facilities
Provides exceptional retailer delivery throughout the nation via our specialized furniture carrier alliances
Reduces the risk of furniture damage as it moves through the system
Technologically Advanced Tracking
To ensure your cargo arrives at its destination safe and on-time, Cargo Consolidation Services, Inc. employs satellite communication and bar coding technology
Home Delivery
Delivers direct to consumer in all 48 contiguous states and Canada through a network of 71 US and 19 Canadian distribution agents
Conducted through an agent partnership with TRP Venture Capital's HomeDirect USA (HDUSA), a division of the Penske Group
Ocean Freight
Negotiates highly competitive ocean rates, regardless of foreign port origin, domestic destination, or container quantity through our strategic partnership with the Global Shippers Association
Reduces surface distribution transportation costs by placing inbound containers closer to market destinations via specialized furniture carriers at strategically located distribution centers throughout the nation
Professional and Experienced Staff
Each team member's efforts reflects our company's pride and desire to exceed every customer's service expectations