Car shipping, International and Domestic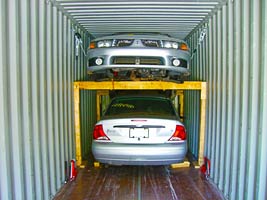 We provide full range of car shipping service domestic and international, transparent pricing, excellent customer service, direct auction purchase, car storage and safe ocean shipping of your vehicle. Our experience team will arrange and monitor every step of your car shipping starting with picking up, inland shipping, container loading, ocean shipping and customs clearance. To request a free car shipping quote please click here.
Car Shipping Within USA
We can ship your vehicle door to door or door to port anywhere in the USA. For customer protection we move only with fully insured and bonded inland car carrier. No matter of the vehicle type Automobiles, Busses, Cars, Trucks, ATVs, Watercrafts, Jet Ski, Boats, Motorcycles Tractors we can have it deliver any where in the USA or abroad.
International Car Shipping
We offer car shipping to Europe, Russia, Australia, South America and Middle East. We offer Ro Ro and containerize car shipping for international vehicle deliveries. Ro-ro (roll on roll off) service is major way of ocean transportation for new cars, boats, trailers and trucks. We can load, brace and block safely your vehicle into ocean freight container and deliver it to your desired destination overseas.
Car Export Shipping Requirements
Vehicle export from US is closely regulated and monitored process. Title must be present before customs for validation 3 days prior to loading. Batteries must be disconnected and cables safely secured and insulated to prevent spark or short circuit. Fuel thank must be drained just about empty and have less than 1/4 thank of fuel. Car must be block brace and tie down to the container for safe and secure sea shipping.
Car Survey
When car is purchased from auction or dealer we can provide qualified survey to assure that the vehicle meets the description on the advertisement. Surveyor can take pictures of the auto inspect for dents cracks, rust etc.
Auto Insurance International Transportation
International car shipping involves many agents for vehicle transportation. We offer low cost auto insurance for ocean vehicle transportation. The average cost of car insurance is 1.8% from the cost of the vehicle. Client bears all the responsibilities if the vehicle is not insured.
Shipping cars Internationally with Personal Belongings
When you are shipping car overseas you are allowed to load your goods into the vehicle. The personal belongings are shipped under your own risk and they cannot be insured. We advise all the customers shipping own goods into the car to prepare and provide full invoice for all the items. The customer is completely responsible for any goods misrepresentation and related charges and fines.