Yacht and Boats Transport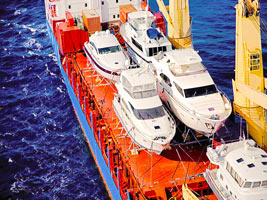 We are leader in Yacht and Boat transport around the world. Big or small Boat, size don't matter we can transport yachts and boats anywhere in the world (Europe, America, Australia, Asia and Middle East). Our experienced professionals can advise on all the necessary operations and provide secure and cost effective way of shipping your boat transportation internationally. We offer full range of boat transportation services – boat hauling, shrink wrap, yacht cradle construction, radar / antenna removal, documents validation and export import boat documents certifications for overseas shipments.
Yacht and Boat Survey
We will survey your boat and assure the appropriate shipping procedures. For all Yacht, Boat, Jet Ski ocean transportations we provide accredited marine survey. The surveyor will thoroughly inspect the boat condition and examine every latch, clasp, strap, restraining line and safety tie.
Boat Shipping Insurance
For all boat and yacht domestic and international transport we offer marine insurance. Customers can choose different kind of boat transportation insurance based on their needs and requirements. For more information about different kind of boat insurance packages click here ».
Yacht Boat Shipping Service
Ro – Ro (Roll-on Roll off)
Containerized Boat Transportation
Float-on float-off
Lift-on lift off
Deck Cargo
Inland Boat Transportation
We guarantee excellent customer service and always ready to work for you and get the job done. We know all the domestic and international regulations for safe and secure boat transportation. Customer satisfaction is our top priority. Get started with Boat Transportation Free Quote.