Air Freight Forwarder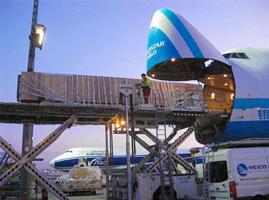 As an air freight forwarder K&K Global is the best solutions for your cargo shipping, regardless small or large we are ready to satisfy your air cargo shipping needs with optimal care.

Our customers can enjoy full regional air freight forwarder coverage in North America, South America, Europe, Asia, Middle East and Africa. We have special air cargo shipping services to Europe, Russia and Central Asia. We are well equipped air freight forwarder with state of the art software and experienced logistic personal is available to provide you with top service for your air import, export international and domestic shipments.
In general air cargo is transported in units load devices (ULD). Any over sized air shipment with dimensions exceeding the form of ULD will require special handling packaging and pricing. We as an air freight forwarder can provide all the additional services needed for your air cargo shipping such as packing, bracing, crating, secure movement complying with air cargo standards and requirements. We provide on-line cargo tracking in real time and full shipping details.
Useful Resources